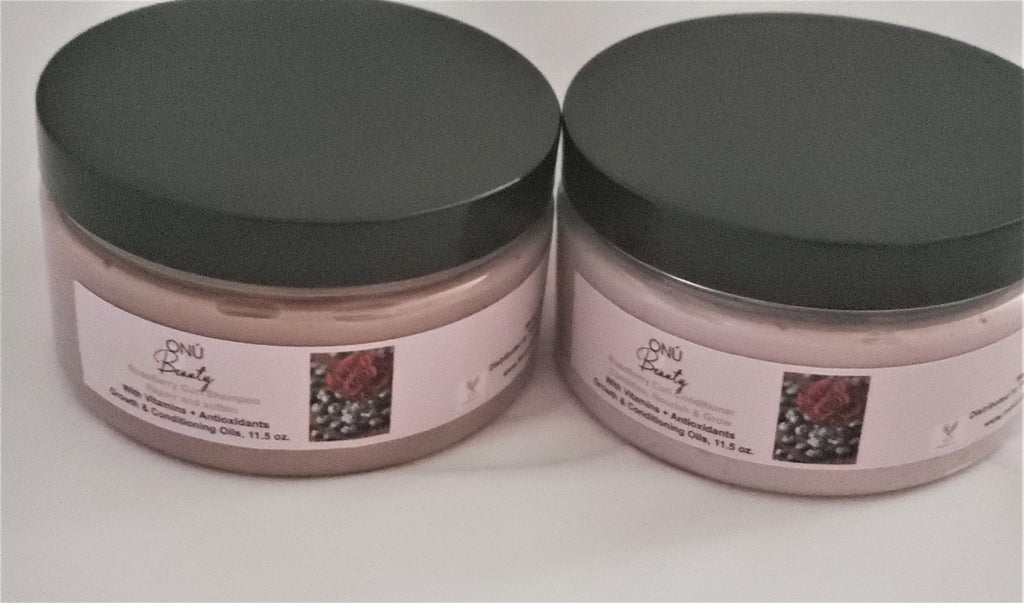 What it is: A creamy, moisturizing hair shampoo and conditioner, naturally formulated with ingredients to hydrate and nourish your kinks, curls and coils.
Key Ingredients:  Distilled infused water, Organic Rose flower petals, Organic Blueberry extract, Glycerin, Bamboo extract, Baobab oil, Sal butter, Avocado butter, Grapeseed oil, Aragon oil, Sweet Almond oil, Rosemary leaves, Ginger extract, Coconut Milk, Sunflower butter, Silk protein, Rosemary essential oil, Peppermint essential oil
Rose petal is a natural hair conditioner with antimicrobial properties that helps to promote a healthy scalp for hair growth.  Packed with antioxidants, rose petals help to reduce frizz in your hair while adding shine. Blueberry contains Proanthocyanidin that help to stimulate the scalp for hair growth.  Blueberries are also packed full of antioxidants that provide Vitamins A, B5, C, and E for a nourished hair.
Hair Type: Wavy, Curly, and Coily
1 Jar Onu Beauty RoseBerry Curl Conditioner, 11.5 oz
1 Jar Onu Beauty RoseBerry Curl Shampoo, 11.5 oz
This shampoo and conditioner work well when used consistently to see results.  
You can use each separate with any other shampoo or conditioners that work well for you.  
How to use: For weekly routine: After washing your hair with our RoseBerry Shampoo, section hair into equal parts and apply RoseBerry Curl conditioner from tip to root of the hair while gently detangling with your fingers or wide tooth comb/brush.  Once all sections have been covered with conditioner and detangled, for maximum results, you can sit under the hooded dryer for about 15 mins, stop dryer and allow hair to cool down.  For deeper conditioning, leave the cap on for additional 45 minutes.  Then rinse out and follow up with a leave-in conditioning spray or cream and style. We also have a RoseBerry Moisturizing Whipped cream (a leave-in conditioning cream).
Paraben free, no phthalates, sulfates, silicones, and petroleum oils
 *This product is not intended to diagnose or act as a treatment or cure for any diseases or disorders. Any statements made here are not approved by the FDA.

* It is recommended that you test all products on a small area for about 24 hours to see if any sensitivity or irritation occurs before applying. Discontinue use if you develop hives or react to any of the ingredients in the product.  Natural herbs and oils are used as ingredient and some may contain nut oils. . Consult a doctor if you become allergic or are allergic to any ingredients. We are not responsible for any misuse or reactions to the use of our products.